Follow these steps before you ride
Author: Matt McMillen
Biking gets you around, gets you in shape and gets you active with the whole family. It boosts your cardiovascular health by upping your heart rate as you ride. Plus, it's easy on the joints, which makes it an ideal activity if you have a bleeding disorder.
"It's a great cardiovascular workout," says Nicole Hroma, PT, senior physical therapist at the Ann & Robert H. Lurie Children's Hospital of Chicago. "Also, because you choose the terrain you ride on and the speed of your ride, you are in control of just how tough or easy that workout is." And biking is an activity for all ages. "All of your kids can participate together, and it allows them to be active with their peers," Hroma says.
If biking sounds like a fun family outing, start by considering these safety tips.
Check In with Your PT
Before you hop on a bike, follow a few essential steps. First, ask your doctor to evaluate your health and clear you for exercise. This is important, says Hroma, because biking does tax your heart.
Second, check in with your physical therapist (PT). Your PT will confirm that your range of motion is sufficient for pedaling. "If you've had bleeds in the knees and they don't bend enough to move the pedal all the way around, biking won't be an option," says Cindy Bailey, PT, DPT, OCS, SCS, a physical therapist with the Orthopaedic Hemophilia Treatment Center at the Orthopaedic Institute for Children in Los Angeles. Instead, you may be able to improve your range of motion by starting out on a stationary bike indoors.
Your PT will also assess your risk of falls. "Biking is a good activity only if you have good balance," says Kay Craig, PT, who works at Saint Luke's Hospital in Boise, Idaho, and is an avid cyclist. Hroma advises that only experienced riders share their bikes with their children because kid-friendly attachments can throw you off-balance, potentially leading to a spill.
Get the Right Equipment
Next, make sure your bike fits you well. Talk to your PT first, then consult an expert at your local bike shop. Both can help you choose the right size frame for your height and adjust your bike to minimize stress on your joints.
The bicycle seat and handlebars have to be in the correct position. "Otherwise, you will irritate your joints," Craig says. "If you haven't liked biking in the past, it may be because your bike was not set up properly, making it uncomfortable." If you have wrist or elbow problems, your PT may be able to adjust your handlebars to accommodate them, she adds.
There are many types of bikes to choose from. Hroma recommends hybrids, which combine features of mountain bikes and road bikes. "But it's really personal preference and what you want to experience that should guide you," she says. Bailey steers her patients away from recumbent bikes, which seat cyclists in a reclining rather than an upright position. These bikes often ride quite low and can be hard for drivers to see on the road. Further, they don't provide as good a workout as upright bikes, Bailey says.
If you and your spouse or partner both love to cycle, consider a tandem bike, which accommodates two riders. "Riding a tandem is a great activity, especially for gentler trails and paths," Bailey says.
If you want something more compact, consider a folding bike. However, be sure to clearly mark your handlebar and seat settings so you can set up your bike properly each time you unfold it. And be forewarned that carrying a folded bike could tax your wrist, elbow and shoulder joints.
Start Slowly
Like any new sport or exercise, go easy when you first start cycling. It takes time to build up your stamina. "You want to advance your workout, your miles and your speed in a gradual fashion to avoid injury or bleeds," says Hroma.
If you plan to bike on flat surfaces, start with short, leisurely rides. However, if you live in an area with lots of hills, prep your leg muscles with some simple exercises. Sit-down, stand-ups are a good option. With a chair behind you, lower yourself until you just touch the seat, then stand up. Do this for 2 minutes to start, adding 30 seconds a day. When you can do these for 10 minutes, you're ready for a 20-minute ride, Bailey says.
Plan for Safety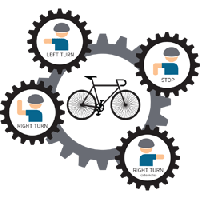 kanate/Thinkstock (gears, bike)
Once you're ready to go, fill your water bottles, pack some healthy snacks and apply sunscreen. Then plot a trip to your favorite park or picnic spot. Travel on easy terrain and set a leisurely pace if you have young kids. Don't forget to plan for breaks, especially if you or your children are new to biking. If your kids are too young to ride, consider attaching a child seat, trailer or tag-along bike (with a seat, pedals and handlebars) to your own bike.
Falls top the list of biking risks. "We want people to be extra careful when they're biking out in public, not because we think they can't handle it, but because other people may cause them to stop quickly or swerve off course," says Bailey. For that reason, she recommends biking on days that you use prophylaxis, just in case you take a tumble.
Before you set out, equip yourself with safety gear. You should not ride anywhere without a helmet. Hroma recommends knee and elbow pads as well. Other safety measures include wearing bright clothing when biking, and mounting flashing red lights on the front and back of your bike. Night riders should also wear reflective vests and place a light on the front of their helmet and reflective strips on the back.
The safest places to ride are dedicated bike paths. Park trails that are shared with walkers and runners also offer safe surfaces. Check with your local park for status updates on path conditions, especially after severe weather. Depending on how busy the path is, you may have to ride single file to allow room for oncoming bike or pedestrian traffic, and for people to pass you.
Other biking surfaces should be considered carefully. Don't go off-roading or create your own trails. Mountain biking and BMX biking are simply too dangerous. "You will fall," Craig says. "It's not if, but when." Sidewalks present fewer risks, provided they're not crowded with pedestrians. However, check your local laws to see if it's legal to ride on the sidewalk. In New York City, for example, only children under 13 may pedal on the sidewalk.
If you must ride on the road, avoid busy streets and always ride with traffic, not against it. Also, use the correct hand signals to indicate when you plan to turn left or right. And be sure to follow all traffic laws. Stop signs and stop lights must be obeyed by bicyclists. Your city, county or state government website should list road regulations for bicycles, so read up before you ride. Always ride with caution. "There are people out there who don't know how to drive around bikers," says Craig. "If you're in traffic, expect cars not to see you."
Finally, don't forget to have a good time. "Biking can be exhilarating and freeing," Craig says. "It's relaxing to get out in the fresh air for a leisurely ride."