Communication about sex and intimacy issues is key when one partner has a bleeding disorder
Author: Melanie Padgett Powers
Shantelle Winslow & Sam McDaniel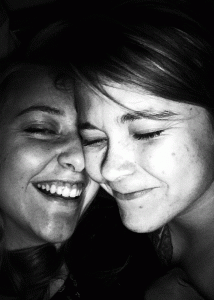 When Shantelle Winslow started dating her girlfriend, Sam McDaniel, she didn't tell McDaniel she had a bleeding disorder until a month into the relationship. Prior to that, when the two were intimate, Winslow would sometimes pull away without explanation. She didn't tell McDaniel that a certain position hurt or that she was concerned an aggressive kiss on her neck might leave a bruise.
"At first I was offended," says McDaniel, 24. "I was like, what am I doing wrong? Am I hurting her?" Winslow, 22, of Goodyear, Arizona, has von Willebrand disease type 2. She prophylactically infuses every other day, in addition to using an intrauterine device (IUD) to manage bleeding. But during those first weeks of the relationship, when McDaniel spent the night, Winslow would wait to infuse until after McDaniel left. "I didn't do it in front of her because it tends to freak some people out," Winslow says. "I didn't know how needle-shy she might be."
Winslow admits that disclosing her bleeding disorder to a romantic partner was uncharted territory for her. "I've never dated anyone as long, so I was a little bit more insecure because it was all kind of new to me. My communication in that first month was never where it should have been."
Strength through vulnerability
Sex and intimacy can be difficult topics for any couple. Add a bleeding disorder to the mix and it can prompt additional conversations about pain, bruising and prolonged menstrual bleeding. But, experts say, frank discussion of these emotionally volatile details also can strengthen relationships.
"You have to be honest about what you're going through and what's happening," says Sarah Watson, a licensed professional counselor and certified sex therapist in Detroit who has mild hemophilia A. "Most of the time I think it requires you to be vulnerable and share your diagnosis. Not everyone's going to choose to do so. But I think in the long run, it's going to be a better choice to just share."
One day, as Winslow and McDaniel were talking, Winslow started opening up about her bleeding disorder. She also has tethered spinal cord syndrome, a neurological disorder closely associated with spina bifida. Though she's able to walk, she plays competitive wheelchair basketball, which leaves her vulnerable to injuries and bleeds. She began prophylaxis three years ago to minimize her bleeding risk. A welcome extra benefit from the prophy is that her monthly periods—which had been fairly controlled since she was 16 thanks to the IUD—stopped. She shared all this with McDaniel and explained that she could bruise easily or get a soft tissue bleed from sex or even kissing. She explained prophy as well, that she injects herself at home every other day.
"She just started explaining her situation to me, and then she told me she infused," McDaniel says. "I didn't know she infused because I hadn't seen it yet."
McDaniel now knows that if Winslow needs to pause or switch positions during sex, it's usually for a physical, not emotional, reason. "People with my kind of bleeding disorder tend to get very sore very easily, and so it's just something we have to consider," Winslow says. "We have to change it up every once in a while. She's very understanding if I say, 'I'm really into you right now, but that hurts a little bit. Can we change it?'"
It's important for partners to share what affects their desire and arousal, Watson says. That means being honest when they don't feel like having sex. Or perhaps being open to replacing sex with other intimate experiences, such as genital touching, sensual massage or taking a shower together. "Always talk about what your likes and dislikes are, how you find pleasure, what you're hoping to get out of intimacy," Watson says.
Both Winslow and McDaniel agree that after they began to talk openly about Winslow's bleeding disorder, their communication and trust grew. "I think it made our relationship stronger," McDaniel says. "It's made us a lot closer and more understanding." Adds Winslow: "Building that trust is very important. That's the way that both of you are going to have the most fun."
The couple have been together for 10 months. Two days after Winslow graduated in May from the University of Arizona, they moved in together.
Winslow says her hematologist suggested that an important factor in having a strong intimate relationship is to make your partner a part of your bleeding disorder. With that in mind, McDaniel is learning how to perform Winslow's infusions. "The more comfortable and open you are about your bleeding disorder with your partner, the more it builds a tighter connection between you two," Winslow says.
Susan & Dan Hartmann
Being open about your bleeding disorder doesn't stop after you've been in a relationship for several years. With increasing age, new issues arise. Susan Hartmann has known about her husband Dan's hemophilia A and HIV-positive status since they were kids in ninth grade together in Maryland.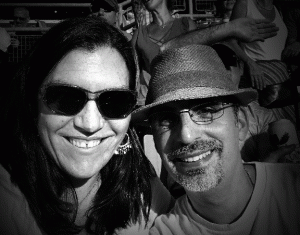 The two reconnected in 2000, while in their 20s, and started dating. There was very little advice available then about how to have a fun and safe sex life when one partner has HIV. At the time, Dan also had hepatitis C, which is also sexually transmissible. (His hepatitis C was cleared five years ago when he took part in a clinical trial for a new hep C drug.) All the information Susan came across focused on practicing safe sex and provided straightforward public health statistics and recommendations. Looking for more creative ideas to foster a fulfilling and healthy sex life, she headed to a local sex shop.
"Hanging out at sex shops was not something that I had ever done before," Susan says. "It was really hard to find people who weren't scared about HIV transmission all the time. I was looking for resources that were not fear-based, that were more empowering." She began to educate herself on the different types of condoms, dental dams and lubricants.
Evolving communication
While Dan and Susan were both comfortable talking about sex, complicated emotions still permeated their romance. "It was a mixed feeling because on the one hand, it's very exciting to be in this relationship, but on the other hand, because you care about this person, you don't want to get them sick," he says.
The two made a commitment early on to discuss any fears or concerns either had. At any time, they could stop whatever they were doing and just talk about it. "I said, 'I'll be as safe as I can, and if anything makes you uncomfortable, you tell me and then we'll just stop,'" Dan says.
Reconfirming such a commitment, and continuing to have open conversations throughout your relationship, is important, says certified sex therapist Sarah Watson. "Communication and discussion about sex should be ongoing—whether you have a bleeding disorder or not—for the health of any relationship," she says.
The Hartmanns married in 2006. Because of Dan's HIV status, they wondered if they could have biological children. Dan's viral load has been undetectable since 2005, but there was no established medical recommendation regarding having kids. After doing their own exhaustive research, they decided to try to conceive through unprotected sex. Their daughter, Ryan, was born in 2010.
While the Hartmanns have worked hard to be open with each other, a few years ago their communication took an unexpected shift. Susan began to have health issues of her own and underwent surgery. "For the first time ever, I was the one managing pain and having to do a long-term recovery and take a month out of work," she says. "Dan was really great at sharing his knowledge and wisdom about all of those things. He brought a lot of experience in a way that helped me manage the situation."
The Hartmanns have been pleased to see the bleeding disorders community increasingly talk more openly about sex and intimacy, including more sessions on the topic at NHF's annual Bleeding Disorders Conference. "I think 99% of people in the world are not born being good about talking about sex," Dan says. "It's something you have to practice, just like anything else."
---
Sex Education
Sarah Watson, a licensed professional counselor and certified sex therapist in Detroit who has mild hemophilia A, recommends the following resources to educate and empower yourself about sex and intimacy:
READ
• The Seven Principles for Making Marriage Work: A Practical Guide from the Country's Foremost Relationship Expert, by John M. Gottman.
Watson says the advice is also helpful for single people and couples who aren't married.
• Come as You Are: The Surprising New Science that Will Transform Your Sex Life, by Emily Nagoski, PhD.
• The Girls' Guide to Sex Education: Over 100 Honest Answers to Urgent Questions about Puberty, Relationships, and Growing Up, by Michelle Hope, MA.
STUDY
• College students: Consider taking a human sexuality class that focuses on intimacy and relationships, not just biology and public health.
• Sex therapist Marty Klein's books, videos and blog posts offer a wealth of advice. martyklein.com
• Couples therapist Esther Perel's insightful podcast "Where Should We Begin?" brings you inside her practice. estherperel.com/podcast