Patients learn to associate music with relaxation
Author: Sarah Aldridge
Plucking the strings of a harp proved to be therapeutic more than 2,800 years ago. The Bible records that when David played the instrument, King Saul became "refreshed and well." Today the same effect can be created by banging a drum, fingering a keyboard or strumming a guitar.

Music is gaining acceptance as a tool to help people cope with pain. "I have a couple of emergency room (ER) department chiefs at UCLA and USC calling me to see if they can instill music therapy in their ERs," says Raffi Tachdjian, MD, MPH, assistant professor of allergy and immunology at Mattel Children's Hospital/UCLA and former clinical director of the UCLA Pediatric Pain Program. In 2002, Tachdjian founded the Children's Music Fund, a nonprofit organization that provides music therapy and instruments to children and young adults with chronic or life-altering illness.
Have you ever used music as pain therapy?
Share your thoughts in the comments section below.
Patients with hemophilia are familiar with acute pain from needle sticks for infusions, as well as chronic pain from recurrent bleeds in muscles and joints. Despite advancements in pharmaceuticals, medications can only do so much. Music can help fill the void. While providers do not advocate abandoning pain medications entirely, they are finding that music therapy can help reduce your reliance on them and help you gain control.
What Is Music Therapy?
Music therapy is a health profession that uses music for many purposes, including pain management, according to the American Music Therapy Association, Inc., in Silver Spring, Maryland. There are more than 70 music therapy programs in the US. Music therapists must pass a national exam to become music therapist board-certified (MT-BC). They work in such settings as hospitals, adult day care centers, rehab programs and schools.
The use of music as a therapeutic intervention is based on cognitive behavioral therapy, substituting healthy thoughts, feelings and physical actions for dysfunctional ones. Patients are conditioned to associate the music they are listening to, playing or singing with a relaxation state. "It's all based on guided imagery or hypnotherapy/biofeedback principles," Tachdjian says.

"Music helps people relax," says Lisa Gallagher, MA, MT-BC, of Cleveland Clinic in Ohio. Coupled with imagery of a patient's favorite spot to unwind, it can redirect thoughts. "Recovering from surgery, you can use the music to help you relax, distract you and give you something else to focus on," she says. When Gallagher approaches patients, she finds out what they prefer. "What a person likes is what's going to be best for them." Gallagher uses a portable electronic keyboard to conduct music therapy sessions. She might also use a guitar, percussion instruments, autoharp or Qchord (an electronic autoharp that mimics the sounds of a guitar, piano, stringed instruments and percussion).
How Music Therapy Works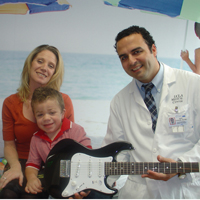 Music's ability to affect the perception of pain relates to the gate-control theory, Gallagher says. "If you're focused on something like playing an instrument, singing or listening to music, that's what's going through the neurotransmitters (which relay the pain message to the brain) at the time. It shuts the gate on the pain, because it's hard to focus on two things at once."

The body produces its own pain relievers—serotonin, noradrenaline and endorphins—all of which can decrease or block pain signals. "Music can set off the endorphins, and you can actually, in some cases, feel happier and better," Gallagher says.
Pain Relief
The anticipation of pain, combined with fear and anxiety, can increase the perception of it. Music therapists can help by redirecting a patient's thoughts and reactions. "For infusions, the music therapist could be there with the patient as the IV is popped in. The patient could be playing an instrument through it or singing through it, visualizing that the pain, anxiety or whatever's bugging them is going away," Tachdjian says. After that, the patient can associate an infusion with the music and the calm, relaxed environment that was created. It helps give patients control over what can seem an out-of-control experience. "This is empowering in the end, because patients learn that they don't have to reach for a pill every time this kind of pain comes up."

Recorded music can be soothing and comforting, but it has limitations. "Live music is always better, because it can be controlled," Gallagher says. "If the patient is short of breath or agitated or really anxious, I might start playing at the tempo they're breathing." By gradually slowing the tempo, Gallagher helps slow the patient's breathing, which eventually matches the rhythm of the music. "Music therapists are like quarterbacks who can change the play while it's happening," Tachdjian says. "They can shift the cadence or tone or sound quality to help the patient."
Studies have shown that music therapy produces positive effects. Gallagher's 2006 study of 200 adult palliative medicine patients assessed pain, anxiety, depression, shortness of breath, mood and some behaviors. "All of the eight factors we looked at improved with music therapy—at a clinical significance and statistical significance," she says. Another 2006 study of 60 patients with chronic pain published in the Journal of Advanced Nursing reported that those who listened to music experienced a reduction in pain, depression and disability.
[Steps for Living: The Pain Facts]
Music is considered a universal language that all of us can speak via self-expression. Don't let your lack of musical ability or experience hinder you, says Gallagher. "You don't have to be a musician to benefit from music therapy. It can work for almost everyone. It is cost-effective and does not have unpleasant side effects."

"A lot of patients feel hopeless against the pain," says Tachdjian. "This helps restore hope."