Tips for globetrotters with bleeding disorders
Author: Gillian Scott
For many young adults, travel is a rite of passage. But along with rights come responsibility. Whether they set off to explore another state or even another country, are visiting friends or attending a conference, travelers should follow basic safety rules. Lock your hotel door, don't carry a lot of cash or valuables, be aware of your surroundings and don't discuss travel plans with strangers. For young adults with bleeding disorders, there are a few more safety considerations.  
Preparation is key to traveling safely, says Susan Hunter, RN, BSN, senior hemophilia clinical nurse in the Hemostasis and Thrombosis Center at University Hospitals Case Medical Center in Cleveland, Ohio. That means first contacting the staff at your hemophilia treatment center (HTC).  "The anxiety of not knowing what to do when you're away can be pretty high," says Hunter. "One of the goals of planning is to decrease that anxiety."
Your HTC can help you develop an individualized treatment plan. This can include creating a supply list and discussing the resources available at your travel destination.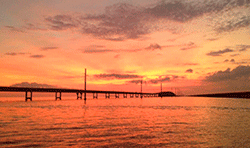 Before traveling to the Galapagos Islands
and Ecuador, Danielle Schwager worked
closely with her HTC.
Know before you go
When Ohio native Danielle Schwager was a senior in college, she studied in the Galapagos Islands and in Ecuador. "For about 10–11 days, we lived on a yacht in the middle of the ocean," she says. Schwager has mild hemophilia B. She and her parents had concerns about her being far from a hospital in case something happened. Schwager wondered how she should prepare. 
Schwager's HTC helped her create a travel and treatment plan. In addition to advising her on how much medication to bring, her HTC nurse taught her, a professor and a fellow student how to infuse. "I had only used my treatment once," says Schwager. She uses on-demand therapy, treating only when bleeding occurs or is likely to occur. "It was a learning process for all of us."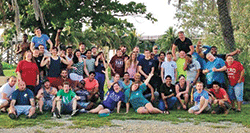 Contact your insurer
HTC staff can make travelers with a bleeding disorder aware of a variety of other issues, says Hunter. For instance, if you're heading to a different time zone, you may need to adjust your medication schedule and your infusion timing. Contact your primary care provider well in advance to determine if vaccinations are needed for overseas travel. (HTCs do not provide vaccinations.) You may be referred to an infectious-disease specialist for the necessary immunizations before you travel overseas.
Hunter also recommends reviewing your insurance coverage. Find out what services will be covered at your destination. Confirm that the type and amount of supplies you need to bring will be covered. Some insurance plans have strict rules on how much factor you can order at one time. Your HTC can help you ask the right questions.
Travel is now a big part of Schwager's job as an admissions counselor for Kent State University in Ohio. Still, she considers her trip to Ecuador and the Galapagos one of the best experiences she's ever had. "I'm so glad I never held myself back."