My Life, Our Future aims to reach 5,000 participants in 2015
Progress. For years, the bleeding disorders community has been waiting for meaningful progress for a greater understanding of hemophilia, for scientific insights and innovations that advance treatment and care. That time has arrived. People with hemophilia have more treatment options than ever before, and the future continues to offer hope. However, given the complexity of hemophilia, it's critical that scientists maintain focus on better understanding the connections between hemophilia's cause and its clinical outcomes. My Life, Our Future (MLOF) provides that bridge. Further, the program is poised to achieve a critical milestone in 2015: the opening of a research repository, upon the enrollment of 5,000 participants. This repository will support further scientific exploration and the promise of revolutionary science becoming a reality.
My Life, Our Future, a partnership between the National Hemophilia Foundation (NHF), American Thrombosis and Hemostasis Network (ATHN), Puget Sound Blood Center (PSBC) and Biogen Idec, offers free genetic testing, or genotyping, for people with hemophilia A and B in the US. The program is dedicated to improving the lives of people affected by hemophilia through knowledge. As a testament to the community's passion for making a positive impact and supporting a brighter future for generations to come, more than 50 hemophilia treatment centers (HTCs) are currently participating and more than 2,000 people have already enrolled in the program.
A brief test, a lifetime of information
There are two components of MLOF: free blood testing and a central research bank. The first component, genotyping, enables participants to learn more about the specific genetic mutation that causes their hemophilia. This information may provide a window into bleeding severity and inhibitor risk. Hemophilia can be caused by more than 3,500 different genetic mutations. The most common mutation type for participants to date is missense, a mutation that codes for a different amino acid than the one needed. Already, more than 120 additional novel mutations have been discovered through the program, which launched nationally in 2013.
Additionally, participants have the option to contribute their data and samples to a central research repository, housed at PSBC. All data and samples are coded so confidentiality is protected. Once 5,000 people contribute to this research "bank," scientists and researchers at academic institutions or companies can apply for access to study the samples and data, potentially leading to improvements in treatment and care.
NHF's Medical and Scientific Advisory Council (MASAC) recommends that individuals strongly consider participating in this aspect of the program to further scientific understanding of hemophilia. "Volunteering to give just a small blood sample for this initiative not only provides you and your family with additional information, but could also change the lives of future generations," says Marion A. Koerper, MD, vice chair of MASAC and medical advisor for NHF. "Each sample collected through My Life, Our Future brings us one step closer to developing a cure for hemophilia."
Turning research into reality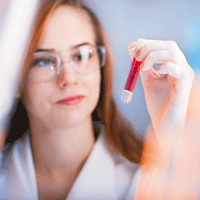 AzmanJaka/Thinkstock
Once the research repository opens, applications to access the samples and data will be carefully reviewed by an independent multidisciplinary committee to determine their feasibility and scientific integrity. All partners are committed to this independent review process, and no one will have preferential access. ATHN will provide oversight for this review committee, which will be composed of at least one hematologist, nurse, consumer, blood disorders scientist, ethicist and geneticist.
The value of the research repository was discussed in-depth during the ATHN Data Summit, held in November 2014 in Chicago. Attendees noted that there are many unanswered questions about hemophilia that warrant explanation, including what causes a specific genetic mutation, how the mutations relate to one another and why the physical manifestation of these mutations, such as bleeding severity, varies so greatly from person to person. Many of these mysteries may be solved through research projects using data and samples from the MLOF repository. "Like other disorders, the only way that progress in the treatment of hemophilia can be achieved is by thoughtful, scientific review of data and judicious use of samples from affected people," says Michael D. Tarantino, MD, medical director of the Bleeding & Clotting Disorders Institute in Peoria, Illinois. "Only then can scientists develop life-changing therapies."
Expanding MLOF to family members and carriers
In addition, the partners will be planning and piloting the next phase of the program: offering genetic testing to potential carriers of hemophilia. Carriers possess the gene for the disorder, and therefore have a 50% chance of conceiving either a son with hemophilia or a daughter who is also a carrier. In the case of hemophilia, women are the carriers. To identify carriers, it's best to first determine the specific genetic mutation in an affected member of the family. The potential carrier can then use this information to see if she has the same mutation.
"The majority of our patients with hemophilia have participated in My Life, Our Future, and are very interested in having the female members of their family tested as well," says Lisa Baker, BSN, RN, a nurse at the Hemophilia Treatment Center of Central Pennsylvania at Penn State Milton S. Hershey Medical Center. Identifying a woman's carrier status can not only improve her health management, but can also aid in family planning, possibly improving outcomes during childbirth and delivery. MLOF is preparing to launch a pilot carrier expansion in select HTCs across the country in 2015.
A brighter future
Though the prospect of what's to come is exciting, the discoveries already made as a result of MLOF, and the enrollment of more than 2,000 participants, nearly half of the program's goal, are impressive. "My Life, Our Future is a true example of the hemophilia patient community's desire to drive progress and join together to make a difference," says Val D. Bias, NHF's CEO. "I'm confident that we're creating a brighter future for generations to come."
To be a voice for progress, and learn how you can get involved in My Life, Our Future, visit: MyLifeOurFuture.org. Together, we can make knowledge hereditary.
Learn More
Information for this article was provided by the National Hemophilia Foundation, the American Thrombosis and Hemostasis Network, the Puget Sound Blood Center and Biogen Idec.