Chicago will embrace the bleeding disorders community for the 2011 NHF Annual Meeting on November 10–12.
Author: Beth Marshall
Chicago, the "city of big shoulders," will embrace the bleeding disorders community for the National Hemophilia Foundation's (NHF's) 63rd Annual Meeting on November 10–12, 2011, at the Hyatt Regency Chicago.
With "Inspiration in the Windy City" as this year's theme, consumers, chapter staff and providers will find plenty to inspire. Families with newly diagnosed children can attend introductory sessions on both hemophilia and von Willebrand disease (VWD): "Babies, Bruises and Bleeds: Hemophilia 101" and "VWD 101." Family dynamics are covered in such sessions as "How to Raise Great Siblings," "Tigger Syndrome: 'Because I'm the Only One'" and "Super Dad! How to Be a Real Man."
Women with bleeding disorders can find answers at sessions such as "Many Types, Shared Problems: Women: Ask the Experts About Your Bleeding Disorder," "Mirror, Mirror on the Wall: Aging and Preventive Care for Women With Bleeding Disorders" and "What's My Name? Dealing With the Diagnosis of 'Symptomatic Carrier.'" In addition, women will be able to connect with other women with bleeding disorders at the Victory for Women reception.
Complications of hemophilia will be addressed in "Your Ailing Liver: Dealing With Hep C Disease Stages, New Treatments and Side Effects" and "Family Planning for HIV Discordant Couples." Consumers will hear updates on the latest research at the "Inspiring From the Pipeline: New and Novel Therapies" session. Further, they will have an opportunity to hear researchers discuss their latest work in "Oral Presentations of Top Poster Abstracts."
The Medical Track for Physicians and Researchers will feature a plenary session on joint disease and osteoporosis. There will also be sessions on the genetics of VWD and a practical session for clinicians on anticoagulation in bleeding disorders. NHF has worked with nurses, social workers and physical therapists to provide relevant educational sessions such as "Outside the Box About Pain Control: A Multidisciplinary Perspective" and "Health-Related Quality of Life Among Older Men With Hemophilia."
Chapter staff will have the opportunity to network and share ideas in "Chapter Chat" and "Fundraising Roundtable." They can learn how to strengthen relationships with potential partners in the two-part session "Industry Relations: The Changing Landscape" and "Finding the Middle Ground: HTCs and Chapters."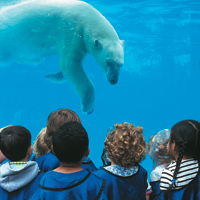 © City of Chicago
As with every NHF Annual Meeting, the Exhibit Hall will be a lively place where attendees can discover new products and services from a wide range of pharmaceutical, biopharmaceutical and homecare companies. Everyone will want to attend the Final Night Event, a family-friendly party with live music, activities for kids and a chance to sample some of Chicago's signature foods.
Chicago is a great city for families, with excellent museums, the renowned Navy Pier with its 150-foot Ferris wheel, and the famous Lincoln Park Zoo, which is free. Childcare is available, and there is programming for children registered for the Babycare/Activity Program for Kids & Teens, featuring field trips to local attractions.