Managing other health issues as you age with hemophilia
Author: Sarah Aldridge
Growing older with hemophilia can feel less like the golden age and more like the rust years. Stiff joints, heart issues and other aging-associated concerns can increasingly complicate life.
Bob Berger, 72, of Ponte Vedra, Florida, has severe hemophilia B and hepatitis C (HCV). Hospitalized with diverticulosis, saclike swellings in his colon, he hemorrhaged so much he needed several pints of blood. He has been treated for prostate cancer and had skin biopsies. But his most pressing concern is a leaky mitral valve in his heart. Bob teaches economic and business law at Flagler College in St. Augustine and will undergo valve replacement surgery in May, after his classes end.
Before contacting the University of South Florida (USF) Adult Hemophilia Center in Tampa, Berger was frustrated with the care he received elsewhere. He was dismayed when the heart surgeon's nurse cancelled an appointment the week before surgery. "That didn't sit too well with me," he says.
"Bob had a heart catheterization scheduled, and he wasn't planning to see him?" says Marla Berger, Bob's wife. "They didn't understand hemophilia." At USF the Bergers' concerns were validated. "They said that under no circumstances should we go ahead with anything until all of the steps were in place. I felt much better about that," Marla says.
As you age it can be even more important for you to advocate for yourself and access the resources at your hemophilia treatment center (HTC).
Health Issues of Aging
People with hemophilia often have other health conditions that must be managed carefully. In a review of previous research studies, published in Haemophilia in 2009, Barbara Konkle, MD, and her co-authors identified five main co-morbidities (concurrent medical conditions) that occur in older people with hemophilia: cancer, cardiovascular disease, joint disease, liver disease and renal (kidney) disease. Konkle is a hematologist at the Hemophilia Care Program at the Puget Sound Blood Center and a professor of medicine at the University of Washington School of Medicine in Seattle.
Heart Health
Having hemophilia does not prevent you from having cardiovascular disease. "Studies show that men with hemophilia get as much atherosclerosis, or hardening of the arteries, as men without hemophilia," Konkle says. Although men with hemophilia are less likely to have heart attacks, they do have them, she says.
High blood pressure is more common in men with hemophilia compared with the general population, but the cause is unclear. "One question that was raised in the past was whether high blood pressure is related to the factor concentrates, particularly when they were not as pure as they are now," says Konkle. If that were the cause, purer plasma-derived and recombinant factor products should reduce the rate, she says.
Some of the drugs prescribed to treat strokes, heart attacks and arrhythmias may disrupt blood clotting, says Konkle. "Someone with hemophilia is going to bleed more on those medications," she says. That can make management tricky. "Bob's got a boatload of stuff to keep his blood pressure and pulse regulated," says Marla. His heart conditions surfaced after he took a long bike ride in 95-degree heat. "My pulse, which usually runs in the high 40s or low 50s, was in the 90s. I knew at that time I had messed up," he says.
Cancer Risk
People with hemophilia are not at increased risk for cancer overall, but are for some specific cancers caused by viruses and their treatments. Chronic hepatitis C infection can lead to hepatocellular carcinoma, or liver cancer. "As we have a larger population of older individuals with cirrhosis from hepatitis C, we're seeing more liver cancer," Konkle says. Biopsies and blood tests can provide pertinent information on the liver's deterioration. Liver transplant is sometimes the only option. (See "In for the Long Haul," HemAware May/June 2009.)
Colon cancer is another concern. Baseline colonoscopies are generally recommended beginning at age 50. However, people with hemophilia might put them off because factor concentrate is needed. But procrastination is not your friend. Neither is overlooking symptoms. "There could be a delayed diagnosis because of some blood in the stool that would be ignored," Konkle says.
Bob found out the hard way that cancer biopsies need adequate factor coverage. A skin cancer biopsy in his dermatologist's office led to problems. "I didn't have any pre-op for that," Bob says. "We didn't think it would bleed, but it really did." His wife infused him at home afterward.
Kidney Concerns
Konkle's review noted the finding from a Centers for Disease Control and Prevention study that older people with hemophilia have a 50-fold increased risk of dying from kidney disease than their nonhemophilic peers. HIV was an important factor contributing to that increase, but hypertension (high blood pressure) and kidney bleeding also appeared to contribute, Konkle says. "The role of kidney bleeding is unclear," she says. "We don't know if changing our treatment approach is needed."
Liver Damage
Virtually all patients with hemophilia who used plasma-derived products before the early 1990s were infected with HCV. Because the virus slowly destroys the liver, symptoms can be mild and easily disregarded for years. The current treatment regimen is rough—side effects abound and less than half of patients clear the virus. Improvements, however, are on the horizon. "There are new drugs coming on the market as early as this year that will increase the response rate and decrease the time of treatment," Konkle says.
Achy Joints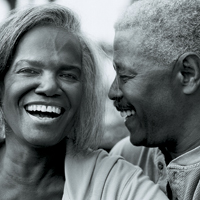 Prophylactic treatment, in which clotting factor product is infused to prevent bleeds, was not routinely prescribed to older men with hemophilia in the US during their youth. Consequently, arthritic, achy joints are common in most men with severe hemophilia over 40.
"When I was growing up, I wanted to be a Major League baseball pitcher. That's how I screwed up my right elbow," says Larry Maddox, 51, of St. Paul, Minnesota. He has stiff ankles and severe arthritis in his knees. Maddox uses crutches to get around his apartment and a walker when he's out in public. Due to complications from his severe hemophilia A, Maddox retired from clerical work 14 years ago. He receives Social Security disability benefits through Medicare.
Bob also has bad joints. "In my left elbow, I have synovium buildup. I have very little, if any, usage of it," he says. As a lefty, that's a problem. "It creates a lot of pain in the evening," he says. He takes hydrocodone on the bad days. Bob's right knee also bothers him. "I have a hard time walking down steps. I can't walk long distances either."
Prophylaxis is used in some older patients. "Secondary prophylaxis, where we start factor after someone has established joint disease doesn't reverse it, but it may slow the progression," Konkle says. Still, more data are needed, she says.
Older people with impaired leg joints tend to be more sedentary, have weaker muscles and are more prone to falls. "I always worry about falling because I have poor balance, largely due to my knees not being able to bend," Maddox says. In January 2010 he fell twice in his apartment and could not get up. Wearing a wireless medical alert device allowed him to summon help. "The paramedics were out here in a flash, so it does work."
Where there is osteoporosis, or bone thinning, falls can result in fractures. Viruses may also play a role. "Hepatitis C may be a slight risk factor for increased risk of osteoporosis," says Konkle. "Those who are HIV-positive are definitely at risk," she says. The cause may be the virus and/or its treatment. (See "Vitamin D and Hemophilia.")
HTC's Expanding Role
Ellen Kachalsky, LMSW, ACSW, and Angela Lambing, MSN, NP-C, of the Hemophilia and Thrombosis Treatment Center, Henry Ford Health System, in Detroit, are spreading the word that HTC staff are positioned to meet aging patients' multifaceted needs. They co-authored the 2009 Haemophilia article "The New Age of Haemophilia." In 2010 Kachalsky co-wrote "Aging with Hemophilia: Implications for Social Work Practice," published in Social Work in Health Care.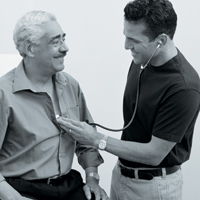 "We're providing much more advocacy for our patients with other services," Lambing says. One day she may act as the liaison with the cardiac catheterization lab, another she may accompany an older patient to a urology appointment. Lambing troubleshoots with staff from other departments, discussing how procedures and tests should be done for a patient with hemophilia. "The patients appreciate the fact that we're there putting it all together for them."
Your HTC visit can supplement or kick-start your visits to specialists, says Lambing. "We are looking at those other co-morbidities—the hypertension, the diabetes, being overweight," she says. She has sent a patient with angina to the cardiology department and recommended a specialist to a diabetic patient being followed by a primary care physician. With her background in geriatrics, Lambing is proactive on timely issues, such as sluggish thyroid glands. "When they're over 60, I'm starting to check their thyroid levels. If we can catch that, it will improve their health."
Pain management is another area your HTC can coordinate. "We look at multimodal pain management therapy," Lambing says. That can range from using topical nonsteroidal medications to physical therapy and TENS (transcutaneous electrical nerve stimulation) units that block pain signals. "We're not just using pills," says Lambing. Patients with chronic pain can also experience depression. "I will frequently add anti-depressants to the treatment plan," Lambing says.
Your HTC may also provide routine screenings. "A lot of our patients are deficient in vitamin D, so we're now screening for it," Lambing says. "We make sure their immunizations are up-to-date, and that everybody gets their flu vaccine and has an up-to-date tetanus shot."
The annual HTC visit is not a substitute for having a primary care physician, though. "Ideally, adults with hemophilia should have an internist—someone who is up-to-date on what needs to be addressed and what needs to be treated," Konkle says. The internist should collaborate with the HTC team, she says. "If the patient has a primary care physician, he is getting the benefit of two views," Lambing adds.
Social workers on the HTC team advocate for patients in many ways. "We're now assessing issues for applying for Social Security disability, if they've been working and have been having problems," Kachalsky says. They also assess patient's living arrangements and physical limitations. "We want to get the tools and social supports in place so they can be more independent."
Modifications for Maddox to continue living alone include replacing his bathtub with a shower, having Meals on Wheels deliver food and hiring a housekeeper. The Metro Mobility bus provides the door-to-door transportation Maddox needs to go places.
Kachalsky links people with resources in their local community, from nutrition and healthy cooking classes at the library to senior centers or community centers with exercise classes. "We also help them explore their hobbies, interests and spirituality that they might have put on hold when they were working," she says.
With the help of your HTC staff, remaining active and enjoying life as you age with hemophilia are not wishful thinking—they are realities. Asking for help as you age is crucial to staying healthy and independent. "People really need to be more assertive if they have a situation like ours," Maddox says.