Russian fights for hemophilia care
Author: Liane Cerminara, WFH communications manager
When Yuri Zhulyov began his work with the bleeding disorders community in 1989, the number of people living with hemophilia in Russia was unknown. There was weak federal control, and coordination between local authorities and hospital hematology departments was almost nonexistent. Until 2005, there was little hemophilia treatment in Russia, Zhulyov says. "There were no products, no home treatment and no prophylaxis."
Zhulyov, now in his early 40s, was inspired by information he heard about factor concentrates available in other parts of the world. So he arranged the first major national conference in Moscow in 1999 to discuss the dire situation of people living with hemophilia in Russia. The Russian minister of health attended, along with Russian physicians and representatives from the Russian Hemophilia Society (RHS) and the World Federation of Hemophilia (WFH). The conference was a success, resulting in the health minister purchasing the first factor concentrates for a limited number of patients.
During World Hemophilia Day this year, WFH honored Zhulyov as an inspiring individual in the bleeding disorders community, part of the "Be Inspired, Get Involved in Treatment for All" campaign. World Hemophilia Day is held every year on April 17.
Inspired by His Childhood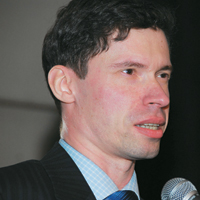 In 1989, Zhulyov helped found RHS and is its current president. As a child in Russia with severe hemophilia A, Zhulyov spent most of his time at home, unable to participate in sports or attend school, studying at home instead. His experiences early in life encouraged him to fight for better care for others with bleeding disorders in his country. For more than two decades, Zhulyov has volunteered his time to the cause.
In 2005, Zhulyov led RHS through an intensive lobbying campaign in Parliament. The group was successful in adding hemophilia to a list of disorders that would receive federal money for treatment. Now, a national hemophilia public registry recognizes 7,629 people with hemophilia and other bleeding disorders in Russia.
Before the campaign, in all of Russia there were approximately 30 million units of factor VIII, Zhulyov says. "Today we have 600 million units. Before, only in our dreams did we think about home treatment and prophylaxis treatment. Now all people who need it receive it."
Zhulyov continues to work diligently to increase awareness and quality of care in Russia. He helped to establish 63 regional chapters. "In the beginning, people understood that we were fighting for our lives," he says. "Now that we have some established programs, people are relaxing. But if we stop our negotiation with authorities or our support for patients and physicians, very soon it will not be progress, but regress."
Treatment for All
Access to treatment is one of the biggest challenges facing the majority of people with hemophilia throughout the world. Approximately 75% of those living with hemophilia have inadequate care or lack access to treatment. WFH's vision is that one day treatment for all people with bleeding disorders will be available.