Hemophilia focus of documentary and TV character
Author: John Indence
Hemophilia and von Willebrand disease (VWD) are not well-known outside the bleeding disorders community. But thanks to the spotlight on these disorders from several media, film and television luminaries, that is changing. The 2010 debut of the documentary Bad Blood: A Cautionary Tale and its ongoing screenings, plus the creation of a character with hemophilia on the TV show Royal Pains, have raised the profile of hemophilia. (See "Hemophilia Takes Center Stage.")
Bad Blood was created by Marilyn Ness, the film's director, producer and writer. She is founder of its production company, Necessary Films. The documentary explains how 10,000 people with hemophilia were infected with HIV because of unsafe blood products. Screenings of the film continue around the US, primarily through the National Hemophilia Foundation's (NHF's) network of chapters. Further, the documentary will debut on PBS later this year and DVDs are now for sale.
The USA Network show Royal Pains began airing new episodes in January and will start its third season this summer. The show, set in the Hamptons on Long Island, New York, features a concierge doctor who makes house calls to the rich and famous. Ezra Miller plays the popular character Tucker Bryant, a teenager with hemophilia. Inspiration for the character came from Enrique Lenchewski, DDS, the father of Royal Pains creator and co-executive producer Andrew Lenchewski.
Ness and the Lenchewskis were honored with certificates of appreciation at the Opening Session of the 2010 NHF Annual Meeting in New Orleans, November 11–13. Joining them were New York City nightlife photographer Patrick McMullan and his mother, Connie, who were recognized for their efforts to raise awareness of VWD and bleeding disorders among women.
McMullan donated his photography skills to create a "faces of women with bleeding disorders" 2011 calendar for NHF and continues to raise awareness through NHF's Victory for Women initiative. His sister, Doreen McMullan McCarthy, died in 1979 from complications of VWD. (See "Iron Butterfly," HemAware Fall 2010.) The Victory for Women campaign also received a grand introduction at the Opening Session with a music video featuring the talents of musician Jessica Rae.
The efforts of these individuals and others will help bring the concerns of people with bleeding disorders into the forefront of the public consciousness. These people came to the Annual Meeting humbly, to be educated, to find out how they can help, and to see firsthand the impact their efforts may have on the general public. They came to absorb and left feeling absorbed—into a passionate and powerful community.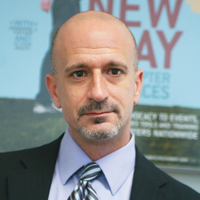 John Indence is the vice president for marketing and communications for the National Hemophilia Foundation.