Tips for managing your stress while taking care of your loved one
Author: Heather Boerner
When you're the primary caregiver for someone with a bleeding disorder, sometimes it seems like just one more thing will make you snap. For teacher , 49, of Oceanport, New Jersey, whose 13-year-old son, Nick, has mild hemophilia A, the trigger was when he slammed his hand in the car door. The two spent an unexpected night in the emergency room.
For Janis Kosak-Ceaser, RN, 39, of Spring, Texas, it was the visit to the hospital where her father, who has mild hemophilia A, was preparing for heart surgery. She had a showdown with the anesthesiologist to make sure her dad was properly infused beforehand.
For stay-at-home mom Anna Landseadel, 33, of Kokomo, Indiana, it's the daily demands of a toddler with severe hemophilia A who likes to climb and bumps into things. Add to that the needs of the seven other kids in the family, and Landseadel reaches her limit quickly.
There are a lot of ways for the loved ones of people with bleeding disorders to burn out. Caregiver burnout is characterized by depression, exhaustion, social withdrawal and helplessness. It often leads to poor eating, excess alcohol intake and sleep disturbance. Sometimes it causes caregivers to become verbally or physically abusive to their loved ones.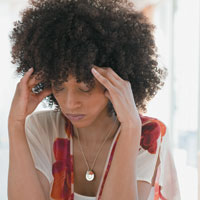 JGI/Jamie Grill/Getty Images
But there's an alternative to being consumed by caregiving that makes facing the daily challenges of helping someone with a bleeding disorder easier, says Mary Jane Berry, LCSW, a social worker at the Georgetown Hemophilia Treatment Center (HTC) in Washington, DC. "When burnout is managed, it's not like you won't worry," says Berry. She has given talks at women's retreats on avoiding burnout. "You'll just feel better. You'll be more resilient. You'll bounce back faster."
Tackling burnout, Berry says, starts with recognizing the underlying feelings that feed it.  Then you can take concrete steps to install a release valve in your high-pressure life.
Find the Signs
Burnout happens gradually. One sign is that you stop meeting your own needs. You may focus so much on the health of the loved one you're caring for that you start neglecting your own health—physical, emotional, social and spiritual. Over time, you may drop more things, like personal time, hobbies, exercise or eating balanced meals. You may become slower to recover from emotional stresses. When crises happen, you may not handle them well. Beware—burnout is just around the corner. "By the time you reach full burnout, you may be feeling overwhelmed, frustrated, isolated, angry or lonely," Berry says. "The anxiety and guilt can be crippling."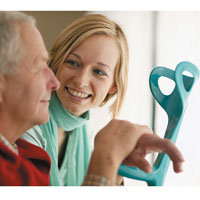 Altrendo Images/Getty Images
When you're that upset, you can become irritable and unreasonable, and sometimes even abusive. "You lash out at the ones who are there the most, and that usually ends up being the people you're caring for," said Ellen Kachalsky, MSW, LMSW, a social worker at the Henry Ford Hospital Adult HTC in Detroit. "They are a convenient target for all the pent-up emotions you don't feel you can hold in until you get some relief."
She knew she was stressed after experiencing a delayed reaction to seeing her son get hit with a baseball during a Little League game last summer. The next day, when she brought Nicholas back to the field to watch his teammates play in the championship game, another child got hit with a ball, and her stomach turned. "I realized then, maybe I didn't handle this as well as I thought I did," she recalls.
Adult children and spouses of older people with bleeding disorders also contend with a slew of age-related illnesses. Kosak-Ceaser says she must stay on top of her father's heart disease. "You get so tired of fighting for your kid or your father," she says. "But if you walk away, it could be his life."
[Steps for Living: Managing Stress]
Burnout Recovery Tips
The key to recovery from burnout is to change the way you think about caregiving, says Robert Johnson, MSW, LMSW, a hemophilia social worker at John H. Stroger Jr. Hospital of Cook County HTC in Chicago. "Recognize that what you can do for a loved one in a crisis—where you have quite a bit of capacity for caregiving—is different from what you can do when he or she is in a chronic situation," he says. "You have to shift gears and approach it in a way that allows you to show up for your loved one for the long haul."
That means accepting that self-care isn't selfish. It's deeply pragmatic. According to the Yale-New Haven Psychiatric Hospital, depression is 10 times more common in caregivers than in the general public. "If you don't take care of yourself, and then you get sick, who will take care of your loved one?" asks Kachalsky.
The next step is counterintuitive for many, Berry says. The treatment for burnout is to do some of those things you don't think you have the time for: Go back to the gym. Eat well. Go to bed at a decent hour.
You can fight the feeling of isolation by gathering a support system around you. Rescinio, a single mother of three, has arranged that if Nick has a bleed at school, the homecare company can send a nurse to infuse him. Nick is also learning to self-infuse. "It took a while to set up," Rescinio says. "But that support is worth it." Make a list of things other people could do for you, suggests Kachalsky. (See sidebar, "Helpful Hints.")
Family
With a brood of five adopted and biological kids and three foster kids, the Landseadels know what it means to be overloaded. "Luckily, all of our extended family live right here," she says. "When we feel like we're being sucked dry, that's when family members step in and say, 'Let us take a couple of the kids.' Just a few hours of peace and quiet work wonders." 
Friends
When Kosak-Ceaser gets fed up with fighting medical personnel, her first call is to friends who also have family members with hemophilia. "When I'm just so stressed out, I call them and say, 'Look, I just have to vent to someone I don't have to explain the disease to,' " she says. With them, she can turn the trials of dealing with medical staff into jokes. Humor is a proven destressor.
Social Networking
Landseadel doesn't have much time to meet face-to-face, so she goes online for support. "The Internet is one of the best tools for staying in touch with grownups," she says. "If I ever have a question, I know a group I can visit. Facebook has every group under the sun you can join." Your HTC can help provide useful online sources for you.
Stress Busters
There are a lot of simple things you can do to relieve stress. Try meditation. When you're tense, your muscles constrict to prevent you from breathing deeply. When you consciously take deep breaths, you relax your muscles, calming your nervous system. "Take 10 minutes and do a simple meditation exercise. Put your mind somewhere else for a few minutes," says Kachalsky.
Getting out of the house or taking a walk around the block can clear your mind and pick up your spirits. Not only will this give you some space, but the exercise will reduce your stress. Solitude is also soothing. "There are days when my husband walks in the door, takes one look at me and says, 'Go,' " says Landseadel. "I grab my books, lock myself in the bathroom and spend two hours reading in the bathtub."
Kosak-Ceaser turns to music. "Sometimes when I can't maintain my concentration, I just listen to music—especially angry songs," she says. "There's a lot of Twisted Sister." Rescinio faithfully keeps up a regimen of chiropractic, acupuncture and massage appointments. It may sound self-indulgent, but it's critical to her health. "When I have a stiff neck, it's not just a stiff neck," Rescinio says. "It's those extra long nights I put in at the emergency room. My body remembers, and massage helps to release that stress."
Locating caregivers whose children, spouses or parents are older than yours will show you it's possible to get through the things you're experiencing now. "Sometimes family members report a pervasive sense of hopelessness or sadness," says Lisa Maiale-Howell, LCSW at the Children's Hospital of Philadelphia HTC. Hope comes in the form of other people who have gone through it, too.
Taking care of yourself will have long-term benefits for your loved one. "The only way the people you're caring for are going to learn to take care of themselves lovingly is if they see you taking care of yourself lovingly," says Rescinio.