When a grandchild is diagnosed with a bleeding disorder, most grandparents step in to help
Author: Sarah Aldridge
They shoot hoops, teach kids the right way to do chores and bake homemade goodies to celebrate special occasions. And most hold down full-time jobs or volunteer their time. These days, grandparents are active, working and contributing to society and to the welfare of their extended families in new ways. But many do what grandparents have done for generations—nurture, mentor, chauffeur and, in some cases, raise their grandchildren.
Since 1970 the number of children under the age of 18 living in a household headed by a grandparent has more than doubled—from 3% to 6.5%, according to the U.S. Census Bureau. An estimated 5.7 million children now live with grandparents, receiving basic care from them. In addition, nearly one-third of preschoolers whose mothers work are cared for by grandparents.
And when a grandchild is diagnosed with a bleeding disorder, most grandparents step in to help.
Adjustment for All
"When my grandson Daniel was first diagnosed we were utterly shocked," says Patricia Suchla, 56, a divorced mother of four adult children. Uncontrolled bleeding after a ruptured spleen led to testing, which confirmed the diagnosis of severe hemophilia A. "It was one of those 'why me?' experiences," says the Cudahy, Wisconsin, resident who works full-time at Rockwell Automation.
Daniel, now 7, was the first to be diagnosed with hemophilia and family members were looking for the cause. "Everyone kept blaming my son-in-law," Suchla says. But because women are the carriers, the family soon realized that the gene came from Suchla's daughter, Danielle, 28. "The pediatrician told me that he thought it was a spontaneous mutation—it just happened."
Adjusting to Daniel's diagnosis was hard on everyone, Suchla says. Fear of the unknown and trips to the emergency room added to the stress; hearing her grandson cry while the nurses tried to administer factor was unnerving for her. "As experienced as those nurses are, it was really difficult for them to access Daniel's veins," she recalls. "That first year we went through a lot of heartache and tears."
Families who have been through it before have a slight edge over other families. "If they've already had a history of hemophilia in their family, there's a different reaction," says Diane Standish, LSW, Hemophilia Center of Western Pennsylvania in Pittsburgh. Unfamiliarity is not the issue, uncertainty is. "The grandparents may be thinking, 'What are bleeding disorders like now? What's it going to be like for this child?'"
Those questions arose for Ann Binegar, 62, of Waterford, Ohio, when her grandson Andrew, now 11, was born. "I hated to hear the diagnosis that he was positive for hemophilia, but as far as nerves go, it didn't bother me," says the retired chemical operator. Her husband had severe hemophilia A, so both daughters (Regina, Andrew's mother, and Serita) were familiar with it. "They lived around it and with it all their life," Binegar says. "They had seen me give their father medicine."
Three of Binegar's four grandsons have severe hemophilia A—Andrew, his younger brother, Alex, 5, and their cousin Seth, 9, Serita's youngest son.
When there is a family history, grandparents can offer assurance and encouragement born of their own experiences. "Grandparents say, 'Things are different, there's a lot to learn, but you're going to get it. We figured it out, and you will, too,'" says Standish.
Gil Ferguson, 64, gives his daughter, Amy, and son-in-law, Jay, credit for the care they give their son Nolan, 5, who, like Grandpa Gil, has severe hemophilia A.  "If Nolan has an injury serious enough to require an infusion, they can administer it at home," says the semiretired payroll administrator for a chain of nursing homes in Howell, Michigan. "They are doing a good job with him."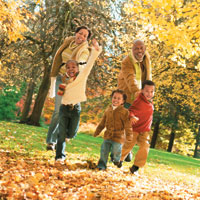 Ferguson, whose wife died in 2006, marvels at the ease and improvement in quality of life that prophylaxis has made for his grandson. "It's a different world than when I was growing up," he says. As a boy, a joint bleed meant a trip to the emergency room, a three- or four-day hospital stay and many missed days of school. "I was admitted to the hospital about once every two months," he recalls.
The difference in the effectiveness of treatment between then and now is visible, says Ferguson. "Nolan's joints are in good shape. You couldn't pick him out of a crowd and tell that he has hemophilia." Ferguson, on the other hand, has tell-tale signs of lasting damage. "I walk with a cane. Both of my elbows are at 90 degree angles, and my knees are not straight."
Learning and Growing
The birth of a child with a chronic health condition is considered a type of grief, a loss of the expected and hoped for. Families move at their own pace through the stages of grief, defined by psychiatrist Elisabeth Kübler-Ross in her book On Death and Dying (1969), from denial and anger to blame and depression. Eventually acceptance sets in. (See "Life After the Diagnosis," a sidebar to the feature "All in the Family," HemAware, May/June 2007, p. 42.)
Now that Daniel is a big brother to Don (6) and ­Desmond (4), both of whom also have severe hemophilia A, and Damien (2) and Dandelina (4 months), who do not, things are a bit calmer for everyone. "After having three sons with hemophilia, my daughter's more comfortable with how to deal with it all," Suchla says. "And I have found out that it's not as bad as I initially thought it was."
Once families come to terms with a grandchild's diagnosis, the next step is often gathering information. When grandparents call asking questions, Standish mails them information packets or makes an appointment to meet with them. Sometimes the solution comes in the form of other people.
"I notice a lot of grandparents at chapter events," says Standish. "That's the perfect way for them to get more information and reassurance, and talk to others."
Grandparents tend to be both curious and concerned about the medical aspects of hemophilia. "A lot of the grandparents who are new to hemophilia have attended our emergency room education sessions," says Charmaine Biega, RN, Hemophilia Nurse Coordinator at Nationwide Children's Hospital in Columbus, Ohio. They also participate in infusion weekends, NHF's First Step program for newly diagnosed children, and the grandchild's annual visits to the hemophilia treatment center, she says.
"Sometimes the grandparents bring them in for an infusion or at other times as needed," Biega says. "They're vital to their grandchildren's healthcare."
Accessing ports and performing infusions can make people squeamish, but there are grandparents who readily adopt the role of nurse. "I know a grandmother who accessed her grandson's port every single day for a year or more because his mother was too afraid to do it," says Biega.
In one family, grandma has an honorary medical degree. "I'm the vein doctor here," says Binegar, chuckling. Years of practice infusing her husband prepared her to help with her grandsons' treatments.
Support System
After Binegar's husband died in 1998, she moved into an apartment in the home of her daughter Regina, and son-in-law John Thieman. When Regina died of melanoma in 2008, Binegar's role expanded. "I tried to help them with the grief. I tried to keep as normal a life for them as I could," she says.
A monthly support group for mothers whose children have died helps Binegar with her own grief. "I've lost a husband and I've lost my mother and father, but losing my daughter was the hardest on me."
Describing her relationship with her son-in-law as "just as close" as it was before Regina's death, Binegar and Thieman share responsibilities. "I help with the spelling homework," Binegar says. "Dad helps with the math."
Binegar also supervises her grandsons' chores, from taking out the trash to mopping and weeding. Since boys will be boys, sometimes she has to lay down the law. "I've got to get kind of rough once in a while," Binegar admits. "Take your new shoes off, sir," she calls to Alex from the back door.
To help Danielle, Suchla offers the gift of time. "My daughter is a stay-at-home mom. I try to let her have time out with her friends." In addition, she backs her daughter's parenting decisions. "She doesn't want to be overly protective or let them use their hemophilia as a crutch by any means, so I support her in that."
When Daniel complained that he didn't want to go to his new karate class, Danielle urged him to go and Suchla offered to drive him. "That was worth her investment. Within the first 10 minutes he was doing everything with the other kids."
"There's that wisdom of grandparents," says Standish. "They understand that it's not their role to dictate the grandchild's care, but still want to do as much as they can to support their adult child."
Legal Issues
In some instances, responsibility for grandchildren falls into a grandparent's lap unexpectedly. Family violence, poverty, incarceration and military deployment can suddenly hand a grandparent a new role. "What I've seen most commonly is when the parent is not able to take care of the child because of drug addiction or a mental health problem," says Standish.
Assuming this level of responsibility can be challenging and bewildering. "They're stressed because they're dealing with so much uncertainty," Standish says. "The question is always looming in the air—how long am I going to be in this position?"
"This position" can range from being an informal caregiver to a legal custodian or guardian. In other words, grandparents sometimes assume the role of parents. Grandparents may even choose adoption. In some states grandparents must be legal guardians to enroll a ­grandchild in school or provide medical care. In others, consent laws permit them to do both if the child lives with them full-time.
Chapters and hemophilia treatment centers provide the information these grandparents need about medical assistance and other issues. "Most of the grandparents in the custodial situation call us frequently. They really want the advice and they take it," says Standish.
Social programs and respite care can be hard to come by in rural settings that have few resources, says Standish. "There is no "Mommy & Me" gymnastics program in farm country."
For grandparents who feel overwhelmed, chapter events provide a forum that helps them feel included in the community. "They seem a little tentative in the beginning. But if they meet another person they can talk to who understands what it's like to have a child with a bleeding disorder in the home, they really appreciate that connection," Standish says. "Some of the grandparents have become active volunteers and members of our chapter."
The Spoiler
Lavishing love, time, energy and money on grandchildren is part of a grandparent's job description. Suchla drops off homemade pies for the family and cupcakes for school parties. She buys her grandsons things she knows they will enjoy later. "I make care packages with candy, books, toys or bubbles," she says. But Danielle determines when to divide the spoils.
"When we're together, I always treat them to their favorite fast food or pizza. Of course, Grandma always has to pay," she adds laughing.
When Nolan and his younger sister Claire, 4, drop in at Ferguson's they make a beeline for the goodies. "They have the treat location all scoped out. The first thing they ask me is if they can have oatmeal cookies and popsicles,' he says with a laugh.
Ferguson is teaching Nolan the names of the chess pieces, preparing him for the day he is old enough to play the game. But Ferguson is a student, too. "I learn from him all the time. He is such a loving child. Nolan always says, 'Grandpa, I love you.' "
Binegar engages her grandsons in physical activities. "We get out and play basketball and football, ride four-wheelers, and go swimming and camping. I spoil the living daylights out of them." She also reminds them of a future that's wide open. "I tell them, 'You can be anything and do anything you want as long as you get a good education and put your mind to it.'"
At a time when many of their peers are taking exotic vacations or remodeling their homes, these grandparents are proud of their role. "When they come running and hug me, I can't tell you how much that means to me," says Suchla.