Joining forces in the bleeding disorders community
Author: Heather Boerner
Research into treatments and cures for hemophilia takes place in laboratories all over the country. So it's no wonder that funding for it comes from a variety of sectors. Bleeding disorders groups, families, foundations and even pharmaceutical companies have all rallied to support research. Here, we share the stories of four groups supporting research critical to improving the lives of people with hemophilia.
The Researcher
From her office at St. Jude Children's Research Hospital in Memphis, Tennessee, Ulrike Reiss, MD, director of the Division of Clinical Hematology and director of the St. Jude's Hemophilia Treatment Center (HTC), spends her days hollowing out adeno-associated viruses (AAVs) and turning them into safe and effective gene delivery systems. AAVs then become the vehicles, called vectors, for carrying healthy factor IX (FIX) genes. When injected into the body of someone with hemophilia B (caused by a mutation in the FIX gene), the gene-carrying virus becomes a new treatment for hemophilia, one that has the potential to eliminate the risk of bleeds and need for prophylaxis. Researchers are also working on a similar treatment for hemophilia A, caused by a mutation in the factor VIII gene.
"We have the chance to develop further this mechanism, which can sufficiently express factor IX levels, to really almost completely prevent significant bleeding events in patients," says Reiss. "The goal is to keep going higher."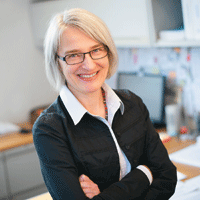 Photo courtesy of Ulrike Reiss, MD
Ulrike Reiss, MD
A potential cure is the great hope of every parent who has had to infuse a scared child, every teen who's spent time on a couch recovering from a bleed, and every adult who has chronic pain and arthritis from recurrent joint bleeds. Reiss and her colleagues aren't the only ones testing gene therapy. Researchers at Children's Hospital of Philadelphia, and collaborators at Mount Sinai Medical Center in New York and the University of North Carolina at Chapel Hill are all conducting clinical trials using gene therapy to correct FIX deficiency.
But to get there, researchers like Reiss need support. As momentum grows for a cure, so does funding for research fellowships like the National Hemophilia Foundation's (NHF's) Judith Graham Pool (JGP) Postdoctoral Research Fellowship. The funders are foundations and families, chapters and individuals, whose contributions prove that when it comes to research funding, everyone can help.
The US National Institutes of Health also supports research on the mechanisms of bleeding and clotting, ­inhibitor formation, gene therapy and more. But it's NHF's JGP Fellowship, established in 1972 to honor the Stanford researcher who discovered a way to extract clotting factor from thawed frozen plasma in 1965, that is perhaps the longest continually running fellowship for bleeding disorders. It supports individual fellows so they can pursue basic ­science on hemophilia and hematology. Other research-related fellowships include the Career Development Award, supported by Novo Nordisk, and the NHF-Baxter Clinical Fellowship.
There are many reasons for supporting research.
The Leader
For Hemophilia of Georgia (HOG) in Atlanta, the impetus to begin supporting the JGP Fellowship in the mid-1990s stemmed from two influential people: Janet Glass, an NHF board member, and Bruce Evatt, MD, a prominent hematologist and researcher who spent many years with the Centers for Disease Control and Prevention. "One of the key programs that Glass really admired and respected was the Judith Graham Pool Fellowship," says Patricia Dominic, CEO of HOG. "Dr. Evatt called everyone's attention to the fact that we did not have a lot of young people coming into benign hematology."
So began HOG's commitment to the JGP Fellowship. "It made us feel very good that we could target a specific program and know that that's where our dollars were going," says Dominic. HOG's initial commitment of $200,000 will be fulfilled in 2013. The chapter has already recommitted, donating another $200,000 to the JGP Fellowship starting in 2014.
Dominic stresses that although the research funding HOG provides is purposeful—it directly supports NHF and its research fellows—it is also practical. "We all benefit when we support research that will hopefully give us new insights into the factor VIII gene and the factor IX gene," Dominic says. "All of those things contribute to the future and well-being of people with bleeding disorders."
Making research a priority was even further solidified in 2005–2006, when HOG's board of directors became a governance board. "The board chose as one of its ends that we would identify research projects that would hopefully make a difference in the care and treatment of people with bleeding disorders," says Dominic.
For other chapters considering initiating or expanding their support for research, leaders must be invested, Dominic says. "Your leaders have to understand and value research. That becomes a direction and a focus." Once a chapter dedicates funds to research, such as the JGP Fellowship, it can take pride in being a part of something bigger than itself. "Whatever we gain is important," says Dominic.
The Parent
By June 8 this year, Erin and Dino Cirelli of East Hanover, New Jersey, were busy with prep work and donation requests for the Walk for Hemophilia that took place in their town on June 9. By June 10, the day after their local hemophilia walk, the Cirellis already knew they'd do it again—and they'll keep doing it until a cure is found for their son Nicholas' severe hemophilia A and others like him.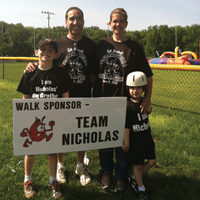 Photo courtesy of the Cirelli family
The Cirelli family celebrated the
fifth year of the Walk for Hemophilia
in East Hanover, New Jersey, in
2013. This year's event raised
$56,404 for hemophilia research.
For Erin Cirelli, an attorney, the focus is always on a future where children with hemophilia don't have to sit still for needle pokes and infusions, because there's a better way.
"Before I'm dead, I want there to be a cure for hemophilia, or, at a minimum, a better treatment, something longer-­lasting," says Erin, 42. "We're shooting for the stars here."
Erin has not only walked in her hometown's Walk for Hemophilia every year for the past five years, but she and her husband also helped found it. The couple organizes all the donations that keep the walk going, from the food to drinks to T-shirts. They also organize the individual teams. In the past four years, they've raised about $150,000 for research. This year, they raised $56,404.
Through a special arrangement with NHF, every penny of the New Jersey walk goes to the Nicholas Cirelli Family Research Fund/NHF Judith Graham Pool Research Fellowship. The fellowship was established in 2013. In contrast, money raised by walks typically goes to chapters, which then decide how to use it.
The Cirellis didn't name the fellowship after their son for recognition. They did it so that one day Nicholas can look back and say, "My parents did something to help me, something tangible."
Like many parents of kids with hemophilia or another bleeding disorder, the roots of the Cirellis' advocacy efforts stem from a terrifying day in the emergency room. Nicholas was five days old and the incision site from his circumcision hadn't stopped bleeding. Erin remembers thinking, "He's going to bleed to death."
After waiting for hours, a pediatrician took one look at Nicholas' blood-soaked diaper, and the staff sprang into action. "It was like out of a movie," says Erin. Two nurses ran in and rushed Nicholas to the NICU. The baby needed two blood transfusions to restore what he'd lost through hemorrhaging.
"This is what led us to believe that we needed to be advocates for Nicholas," Erin says. "If we hadn't, it could have had dire consequences." That belief underlies everything the Cirellis do for the walk, and for hemophilia research. "Doing the walk helps me regain some control," says Erin.
The Philanthropist
Donald Colburn used to say, "I'd love to put myself out of business." Colburn, co-owner with his wife, Kathy Ann Keenan, of American Homecare Federation, Inc. (AHF), had something in common with his customers. He had severe hemophilia A. His business, based in Enfield, Connecticut, catered exclusively to the bleeding disorders community.
Unfortunately, the Colburns passed away in 2006. But they left a directive to the foundation they'd set up in their name: They wanted the money they'd made through their business to go back to support people who had bleeding disorders and other health problems.
"Through the foundation, Donald and Kathy Ann wanted to help people with bleeding disorders thrive in every part of their lives," says Jane Cavanaugh Smith, a member of the board of directors of the Colburn-Keenan Foundation.
The Colburns had a firm grasp on the major issues facing the bleeding disorders community. "They understood the financial burden put on families living with an expensive chronic illness. They believed strongly in the benefit of summer camp and the importance of a good education," says Cavanaugh Smith. "They wanted to help provide for a good life today and, hopefully, an even better life in the future. That dream included finding a cure."
The Colburns' bequest, with an operational budget of about $400,000, is distributed as direct financial grants to individuals and college scholarships for students with hemophilia. It also funds organizations that support the needs of people with bleeding disorders and other chronic illnesses. The bequest also provides for the medical needs of people with bleeding disorders. That's where the JGP Research Fellowship gift comes in.  
The board's decision to put its entire $25,000 allotment for medical research in the hands of the JGP fellowship and NHF in 2012 was not difficult. "Donald had such a long relationship with NHF, serving on several committees and working groups," says Cavanaugh Smith. Colburn helped launch NHF's "It's Time for a Cure" fundraising campaign with a $500,000 donation. "So the decision to go with NHF was easy."
Now that the Colburn-Keenan Foundation has renewed its commitment to research, the $25,000 donation will be in its budget every year, says Cavanaugh Smith. The earmarked money may eventually go to other sources, but for now, the foundation is happy to have a trusted partner in NHF.
"We had no doubt in Donald's confidence in NHF's stewardship," Cavanaugh Smith says. "It was good to be able to put this important decision into the hands of someone we trust and respect."
The Power of Collaboration
Parents. Leaders. Family and friends. Foundations. They may do their fundraising in their own ways, but in the end, the result is the same: more money raised for research into improved treatments for hemophilia. These inspiring community leaders are examples of how these efforts don't have to stop with the next walk in New Jersey, or the next chapter initiative or even the next board meeting. Fundraising for research is in all of our hands.