Families dealing with a bleeding disorder and another diagnosis, such as autism or ADHD
Author: Melanie Padgett Powers
Parents of children with hemophilia and other bleeding disorders are very familiar with the routines and challenges that come with having a bleeding disorder: scheduling prophylactic factor treatments, halting family plans when a joint bleed starts, informing other parents about the condition before setting up play dates.
[Steps for Living: Babysitters and Play Dates]
But some parents in the bleeding disorders community must deal with additional medical and emotional challenges, because their children have a second diagnosis: a developmental disability or a neurobehavioral disorder such as autism or ADHD (attention deficit hyperactivity disorder).

Ryan Krivas, of Cherry Hill, New Jersey, loves miniature golf, animals and Shrek, the popular ogre from book and film. Ryan, 26, has severe hemophilia A, obsessive-compulsive disorder, a seizure disorder and a developmental disability, likely caused by a brain bleed during birth (see "Heads Up," HemAware January/February 2008).

When he has a joint bleed, Ryan can't infuse himself or drive to his hemophilia treatment center (HTC) like other adults with hemophilia. And, with a limited vocabulary, he speaks only in basic sentences with his mother, Kay, a 56-year-old single mom. "He doesn't tell me when he's having a bleed; he's not able to explain," she says. Instead, Kay knows to look for signs, such as bruising and limping, or when Ryan, a leftie, starts to use his right hand to eat because he can't bend his left elbow. Twice Ryan alerted his mother, in his own way, that he was in pain from a new bleed: He retrieved his factor supplies from the cabinet and placed them on the kitchen table for her to notice.

By doggedly pursuing private and state social and medical services, Kay has created a system to help her take care of her son. A year ago, Ryan began attending a day program for adults with developmental disabilities, allowing him to socialize with others. As part of the program, Ryan enjoys cooking lessons, bingo night, nature walks and organizing meals for the local Meals on Wheels program. Ryan's fees are paid for by the New Jersey Division of Developmental Disabilities. Ryan also participates in social activities through the Epilepsy Foundation of New Jersey's Out and About Program.

Although Kay is comfortable infusing her son, it's not always possible. When she was recovering from a surgery, Ryan's homecare company provided a nurse to do infusions. "My worry is what I'm going to do when I'm older and I can't do all these things," says Kay, who has no extended family. "There's a lot of joy, and there's a lot of worry. His disabilities are entwined with every aspect of both our lives."
Autism and Bleeding Disorders
Laura and Eric Selwitschka's two sons have what is classified as an "autism spectrum disorder." Dylan, 9, also has ADHD and type 1 von Willebrand disease (VWD), and the family has a history of platelet dysfunction. All three of Dylan's disorders had a delayed diagnosis. "When he was 4 years old, he had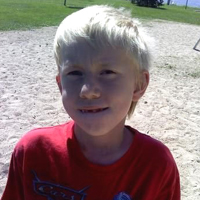 nosebleed after nosebleed," says Laura, of Hustisford, Wisconsin. "It wouldn't stop. It was very heavy. His doctor thought there may be a lesion in his nose." It wasn't until Laura's sister was diagnosed with VWD—after hemorrhaging for two weeks after childbirth—that family members realized Dylan could also have a bleeding disorder. Dylan now uses desmopressin acetate, or DDAVP, a synthetic hormone used to treat some patients with mild hemophilia or VWD on demand.

Autism spectrum disorders are defined by a set of behaviors that typically appear by age 3, according to the Autism Society of America, a national grassroots organization based in Bethesda, Maryland, aimed at improving the lives of all those affected by autism. There are three primary areas of impairment, explains Craig A. Erickson, MD, chief of the Christian Sarkine Autism Treatment Center at Riley Hospital for Children in Indianapolis. He is assistant professor of psychiatry at Indiana University School of Medicine. The areas are:
Social relatedness, such as limited eye contact, lack of desire to play with others, lack of make-believe play, or treating others as objects rather than people.
Communication skills, such as not using single words by age 1 or not using phrases by age 2, or mimicking phrases but not attempting to have a conversation.
Interfering repetitive behavior, such as hand flapping, rocking, twirling the fingers in front of the face, repeatedly touching specific objects or becoming agitated by a change in routine.
A child with autism has impairments in all three areas, Erickson says. In contrast, those with the spectrum disorder have impairments in only two areas—social relatedness plus trouble with either communication skills or repetitive behavior.

There is no known link between autism spectrum disorders and hemophilia or other bleeding disorders. The Centers for Disease Control and Prevention estimates that an average of 1 in 110 children in the US has an autism spectrum disorder. The cause for most cases of autism is unknown, but likely involves genetic, biologic and environmental factors.

Experiencing a bleed and needing a factor infusion interrupt a person's routine—something some children with an autism spectrum disorder find unsettling. "He's got to know what to expect," Laura says of Dylan. "One thing that parents with children with autism learn is to either explain what's going to happen to them or do 'social stories,' where you write out or show in pictures what will happen." Photos could be of the child's healthcare staff, the clinic building and even an exam room, Erickson says. They help the patients anticipate what will happen, he says. "They can be very useful."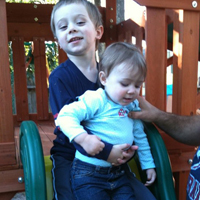 The importance of routine is something Tiffany and George Sorensen, of Houston, know well. Their son, Wesley, 3, has moderate hemophilia A and was diagnosed with autism in August 2010. "It used to be he was very routine," Tiffany says. "He would finish eating and run to the bathroom because [he knew] it was bath time." Wesley has become a little more tolerant of disruptions lately. He knows an unplanned trip to the doctor's office means he is getting treated for a bleed, but he still screams and thrashes during infusion time. "A home health nurse comes to the house. Wesley knows her, and he knows why she's there," Tiffany says. "But we have to pretty much wrap him up in a sheet. My husband and I hold him down while she treats him."

Wesley also has a speech impairment because of his autism. He has a normal vocabulary but doesn't create sentences. In addition, Wesley has a common symptom of autism: echolalia, in which he repeats words or phrases in a monotone from people, television or favorite movies. "If I ask him, 'Do you want juice?' he'll say, 'Do you want juice?'" Tiffany explains.

The Sorensens have begun implementing applied behavioral analysis (ABA), a gold-standard therapy for kids with autism. ABA teaches children the skills they are delayed in and how to replace their challenging behaviors with functional and adaptive skills, according to the Autism Society of America. The therapy uses simple instructions and consistent reinforcement to change behavior. For example, Wesley is learning how to use verbs correctly and how to answer questions without repeating them. He receives tokens that lead to rewards when he answers correctly.

Wesley is also enrolled in a three-hour program every day through his school district to work on his language skills and social interaction. When Tiffany went to pick him up at the end of the first day, Wesley pointed to another boy and said his name. "It was the first time I'd ever seen him, without being asked, say another child's name or even point at him," Tiffany says. "Recently, he's started to point at things and acknowledge things around him and wants to share that with me."
ADHD and Bleeding Disorders
Dylan has had an individualized education plan (IEP) since preschool and was placed in a special education class, partly because of his behavioral problems, Laura says. But it wasn't until the family was put in touch with the Waisman Center in Madison, Wisconsin, in 2009 that her sons were properly diagnosed. "The doctor knew right away where on the spectrum my boys were," Laura says. "He knew Dylan had ADHD because he was bouncing off the walls, kicking stuff and was real hyper." Dylan told the doctor that he had so much energy that he felt trapped inside himself. "The doctor was impressed with his explanation."
[Steps for Living: Sample IEP (.pdf)]

Receiving a formal diagnosis allowed Laura's sons' IEPs to be tweaked so both boys could receive more appropriate education and treatment. According to the 2006 National Health Interview Survey, 4.5 million children ages 3 to 17, or 7%, had ADHD. Boys were more than twice as likely as girls to have ADHD, 11% compared with 4%.

Instead of putting their boys on medication, the Selwitschkas focus on ABA therapy for autism and activities that will burn off the excess energy that comes with ADHD. "I want to get [Dylan] involved in more sports, noncontact sports. His choice of sport is swimming," Laura says. "I also recently bought him a puppy from the pound. He's going to be walking that dog twice a day, every day. He seems to be a lot more calm when he gets involved in those activities."

Teaching children with ADHD ways to calm themselves is particularly important if they also have a bleeding disorder. By definition, kids with ADHD have trouble sitting still. They may try to run to class, leap over chairs, climb on sofas, jump off the porch—all of which increase their chances of a bleed. Dylan has experienced plenty of bruises from running into a wall or falling down. "His impulse actions can hurt him," Laura says.

Sharon Sebolt, a single mom in Durham, North Carolina, can relate to the Selwitschkas. Her son, Leo, who turns 10 in April 2011, has ADHD and mild hemophilia A. "I would say 75 to 85% of his bleeds occur when he's not medicated [for ADHD], and they will be more significant," Sharon says. Last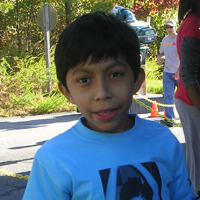 summer, after returning from an injury-free week at hemophilia camp, Leo was sitting in front of his computer when his mom heard a loud crash. He had been tipping the chair back on its legs when he toppled over. A cut above Leo's eye began gushing blood. "He needed stitches and factor," Sharon says. "I've put cushions around the corners of the apartment. I try to have him take a shower when he's medicated, because when he's in the bathtub, he can't help but jump around."

Leo takes a form of Ritalin during the week, which helps him concentrate on schoolwork and stay out of trouble. "Leo unmedicated is up in your face with little regard for personal boundaries, but at the same time, he's a great deal of fun," Sharon says. "On medicine, he gets painfully shy, but he does really good work academically and he's able to focus. So, it's kind of a toss-up." The medicine also robs Leo of an appropriate appetite. While he eats a decent breakfast and dinner, he has no appetite for lunch or snacks during the day, his mom says. Sharon reduces his dosage on the weekends so he will eat more.
A Link Between ADHD and Hemophilia?
After witnessing perceived hyperactivity in children at their HTC, staff at the Phoenix Children's Hospital conducted two studies to see if there was any correlation between ADHD and hemophilia. Their findings point to a higher number of ADHD diagnoses in the hemophilia population, but more research is needed. "The thought was that now we know that prophylaxis with clotting factor works; is there something we can do similarly for boys with ADHD?" says Michael Recht, MD, PhD, director of the HTC at Oregon Health and Science University. He is the former director of the Phoenix HTC. "In some respects, the ADHD can be more troublesome in development and schooling than the hemophilia."

The HTC's 2003 study of 34 boys ages 5 to 14 showed that 26% were rated by their parents in a mailed survey as having an attention deficit, 18% were rated as having hyperactive/impulsive ADHD and 18% had a combination of the two. The boys' teachers rated them lower, with just 4% falling into the attention deficit category and none rating hyperactive. The researchers realized that many of the boys received ADHD medication primarily during school hours, which likely accounted for the lower rankings among teachers.

A follow-up study in 2009 addressed some of the earlier study problems. This time, the boys were compared with a control group of boys without hemophilia. Parents and teachers rated the boys only after the kids were off their medication for three days. Further, the boys were tested on inattention and hyperactivity-impulsivity. "The major finding with this study is the boys with hemophilia did seem to have higher rankings of both hyperactivity and inattention by the teachers, but only in hyperactivity by the parents," Recht says. The tests showed that the boys with hemophilia, compared with the control group, had more impulsivity. However, Recht says, "Because the sample size was so small, we weren't able to see statistical significance."

The question remains: Is ADHD more common in boys with hemophilia than in boys without a bleeding disorder? Recht thinks so, but doesn't know why. Participation from kids at the HTC was low in both studies, which might have led to selection bias. "Maybe the families whose kids would be more prone to ADHD might be more interested in being a part of this study and having their kids tested," Recht says.
It's also possible that some parents of children with hemophilia are more sensitive to their child's perceived hyperactivity or excess energy because it could lead to falls, and more bruises and bleeds. Therefore, they might be more protective and more likely to seek out medication that controls ADHD for what could be normal boy behavior. Another theory is that a low-level trauma, perhaps an early brain bleed that went undiagnosed, caused the boys to be more prone to ADHD, Recht says. All of these are only theories at the moment.

Recht and his team want to conduct a third study to examine whether kids with hemophilia and hyperactivity-impulsivity have a higher risk of injury. "We're going to need a multi-center study to get the numbers that will give us the power to really ask the questions we want to ask," Recht says.

As any parent of a child with a bleeding disorder knows, "normal" days can turn upside down in an instant. Adding a developmental disability, autism or ADHD on top of that only complicates things, Laura says. But she wants to encourage parents: "Just take one day at a time, take one step at a time," she says. "Make sure you get enough information—knowledge is power."

Laura also advises parents to seek local support groups or online communities, such as those on Facebook, for both bleeding disorders and developmental disorders. "Going through this is not only stressful, but it can be frightening at times," she says. "Support groups help parents realize they are not alone, that there are others out there that understand and can help."