Acute pain can lead to chronic pain in people with hemophilia
Author: Rebecca A. Clay
Phillip Fletcher has seen firsthand how pain can tear a family apart. He's convinced the pain he has suffered his whole life helped destroy his parents' marriage, his father's remarriage and his own first marriage.
"My father was 6'4" and 200 pounds, and knew how to handle stuff. To see him crying because I was in pain—it was devastating," remembers the 47-year-old Houston resident with severe hemophilia B. "He actually grabbed a doctor by the collar once, raised him up and told him, 'Do something!' "
Fletcher's pain also contributed to the demise of his first marriage. "I'd be in terrible pain, and my wife would yell at me, 'Stop complaining,'" he says.
These days, Fletcher has two bad ankles, a bad knee, a bad elbow and a bad shoulder—the result of arthritis that has built up in joints damaged by repeated bleeds. "The pain never goes away," he says. "I feel used up." After a 25-year career in financial services, he was laid off in the aftermath of Hurricane Ike and now devotes himself full time to the clothing company he launched in 2001. This job offers more creativity and less time spent driving. "How can I work full time for somebody else with the problems I have?" he asks. "The pain, the fatigue—you can never be reliable." But Fletcher is happy anyway, thanks to the love and support he receives from his wife, who also suffers from chronic pain.
Fletcher's experiences are all too common. Chronic pain can affect an entire family, adding frustration, anxiety, guilt, anger, resentment and other wrenching emotions to an already trying physical situation. But experts note that there are ways to ensure that chronic pain doesn't derail family life.
[Steps for Living: The Pain Facts]
A Family Affair
Pain is a regular problem in the bleeding disorders community. Acute pain strikes when a person experiences a hemorrhage into a joint, muscle or other tissue. It can then lead
to chronic pain from osteoarthritis and repeat bleeds.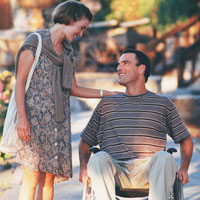 Angela Lambing, MSN, NP-C, nurse practitioner coordinator at the Henry Ford Health System's Hemophilia and Thrombosis Center in Detroit, is at the forefront of studying chronic pain in this community. (See "How to Manage Chronic Pain," HemAware, May/June 2009.) About five years ago, she and colleagues conducted a regional study of acute and chronic pain among patients with bleeding disorders. Their goals were to see what language patients used to distinguish between acute and chronic pain, assess their pain management strategies and determine how effective those strategies were.
The results showed that the average pain score among patients with hemophilia was five on a scale of zero to 10. That pain is a result of the suboptimal treatment patients received in the past, Lambing says. "Many of these guys, especially our gentlemen in their 30s, 40s, 50s and 60s, didn't have the benefit of prophylactic therapy with factor," she explains. After years of uncontrolled bleeds, she says, they typically end up with severe osteoarthritis.
That pain was often not well controlled, adds Lambing. Some patients were using the wrong approach to tackling chronic pain. In the study, she says, 38% of hemophilia patients were using factor to treat pain. "In reality, it was arthritis pain that needed other treatment," she adds. But medication's not the only way to treat chronic pain. Physical therapy and exercise, joint replacement and other surgeries can also help.
Depression often accompanies chronic pain, says Sue du Treil, LCSW, PhD, senior counselor at the Louisiana­ ­Center  for Bleeding and Chronic Disorders in New Orleans. The pain and its emotional consequences can have a huge impact on families, she says. Some ­families over­indulge the person in pain, she says. "Then, ­sometimes, it goes the other way, because they're so afraid of overindulging that they don't give them enough," says du Treil.
The person in pain may displace his anger onto his family, du Treil explains. "They think, 'I'm really angry at my knee for hurting so bad, but instead I'm going to scream at my wife.'"
Painkillers can further complicate communication, says du Treil. "It's very hard for people on pain medication to express what's going on inside them, because everything's been dulled. And they're not as alert or attentive."
Straightforward, honest communication is what works best for Fletcher. "What I've learned is to voice it in a way that doesn't have stress," he says. "Instead of "This is killing me,' I just say, 'My elbow hurts.'"
Chronic pain also affects practical issues. Pain can interfere with family activities and roles. Family members may have to change roles or take on extra duties—another potential source of resentment.  
It's important for the person in chronic pain to keep participating in family life even if he can't work or do things he used to do, du Treil stresses. "You could be the one to decide what entertainment we're going to have in the home for the next two days or be the one to select the menus," she says. "You may not cook it, but you're the one who's going to decide what we're going to eat and make the grocery list for the family." 
If chronic pain is getting in the way of happy family life, says du Treil, it's time to seek outside help. Look for a support group in your area or call your local NHF chapter or treatment center, suggests Carolyn K. Francis, RN, CANP, MS, program coordinator at the Georgetown University Hemophilia Treatment Center in Washington, DC. Chapters often have speakers address chronic pain and related topics, she says. It can be useful just to hear how other people cope with chronic pain. "It's nice to know that you're not the only one in this boat," she says. 
Some families may need more help than groups can offer. You can typically find a social worker at your hemophilia treatment center who can provide some counseling and support. If you need longer-term assistance or help that's closer to home, the social worker or other psychosocial team member can recommend an individual, couples or family therapist in your own community. Talking to a counselor can be helpful in several ways—for example, by changing harmful thought patterns, helping you find new ways to cope with pain or other limitations, or aiding communication with friends or family members.
[Steps for Living: Relationships Beyond the Casual Date]
Parents and Children
For fathers with chronic pain, one of the challenges can be the inability to enjoy certain outdoor activities with their children. John A. Lanzon regrets not being able to go hiking or snowmobiling with his three sons and daughter as they grew up. The 62-year-old with severe hemophilia A has constant, nagging pain in his elbows, shoulders and back. "I wasn't able to play certain sports like some fathers are," he says. "I couldn't engage in physical activity."
But the Southfield, Michigan, resident, whose pain forced him to retire from his job as a medical technologist in 2002, says the impact of his chronic pain hasn't been all bad. For one thing, he says, it taught the children to be helpful. "They were my arms and legs when I needed them, doing the physical things around the yard, house or garage I couldn't do," he remembers. 
The situation also taught Lanzon's children the power of perseverance. "They learned by seeing me be a fighter and going to work every day despite the pain," he says.
"It was never easy seeing him in pain. I remember thinking that it would be good if I could share some of his pain," says John A. Lanzon Jr., 30, who works in loss prevention at a store in Orlando, Florida. "But at the same time, he was always so strong that I always knew he could get through it."
For Charles Banks, 39, who lives at home with his elderly parents in Washington, DC, the reversal of traditional familial roles is troublesome. "Now they're taking care of me again," he says. Banks has severe hemophilia A and hip pain so severe he uses a wheelchair.
Banks tries to protect his parents by hiding his pain. "I try not to put too much on them," he says. "Even though they don't mind doing it, I still want to be very careful about straining them and putting them through so much."
Occasionally, the pain can be so intense it's impossible for Banks not to lash out. "Sometimes people in pain can be snappy or impatient, because their whole day is ruined," he says. Caregivers shouldn't take it personally, he emphasizes.
His mother, Gloria, says her strong Christian faith helps her manage the stress. "I do a lot of praying," she says. She often reads the Bible to Charles when he's suffering. "I know that God is going to take care of it," she affirms. 
[Steps for Living: Managing Stress]
A Stressor for Couples
For couples, chronic pain can bring additional concerns, such as intimacy, says Francis. She sometimes lectures on pain and sexuality.
"Sex is an important part of a relationship and an important part of feeling manly," she says. But pain can make sex physically impossible. "It can limit the positions you can get into," she says. And pain medication and depression can reduce the sex drive to zero.
[Steps for Living: Sex and Your Bleeding Disorder]
Paradoxically, says Francis, sex can be a powerful pain reliever. "Some people actually use it for chronic pain relief," says Francis. "But you have to find the oomph to even want to have sex."
Fletcher and his wife, Ismenia Interiano-Fletcher, 42, say pain has brought them closer together. That's because Interiano-Fletcher herself has chronic back pain as a result of a car accident. She and her husband trade off taking care of each other.
"It's difficult because you don't want to see the other person suffering," says Interiano-Fletcher, a Hispanic communications specialist at an electric company in Houston. "You would like to be the one taking that pain. And you would like to have the solution."
When Fletcher's joint pain is especially bad, Interiano-Fletcher massages his back, applies heat pads or ice, rubs on ointment—whatever alleviates the pain temporarily, even though it will come back again.
Distractions also help when pain hits. Whether it's a job, your family, a hobby, even cleaning the house—distraction is one of the best ways to control chronic pain, says du Treil.
Sometimes, a simple change of scenery helps. And that goes for caregivers, too, says Interiano-Fletcher, who emphasizes the need for breaks from caregiving. She recently met with her family in New York as they traveled from their native El Salvador to Europe. "That's an energy charger for me," she says. Above all, she says, accept the fact that pain is part of your family's life. "Accept yourself and enjoy life," she advises.