Single parents find support while raising children with bleeding disorders
Author: Kadesha Thomas
Alicia Unger is awake by 6:30 a.m. every day. She has only an hour or two to squeeze in a day's worth of chores: laundry, cleaning, cooking, maintaining a one-acre yard and checking e-mail. Once her 17-month-old son, Landon, wakes up, Alicia starts her other job: keeping a close watch on him to make sure nothing goes wrong. When Landon was diagnosed with severe hemophilia B a few days after he was born, Alicia knew she would have to drastically cut back her work hours as a hair stylist at a local salon to take care of him.
The rocky, on-and-off relationship between Alicia and Landon's father abruptly ended when she told him she was pregnant. At 25, Alicia is a single parent, raising her son by herself. "Doing everything on my own is intense," says ­Alicia, of Conneaut Lake, Pennsylvania. "Try taking a toddler with hemophilia to the grocery store. I have an ongoing fear that he is going to have a bleed."
Despite the challenges of being a single parent, single does not have to mean alone. Single parents of children with bleeding disorders can build a team of support to alleviate stress, fear and loneliness. That team can include trusted friends and family who can babysit and help with the child's treatment plan. It can also include nurses, social workers and other staff at the hemophilia treatment center (HTC).
Single Parents All Around
Up to 30% of children in the US are living with a chronic disease or health condition, according to a May 2008 study in the Journal of Pediatric Psychology. Many of them are being raised by single parents. A 2009 US Census Bureau report found that more than 26% of all children and adolescents younger than 21 were raised by one parent, with the other parent living outside the home. Further, most single parents are mothers. One-third have never been married; 45% become single parents after a divorce or separation. Fewer than 2% are widowed. (The rest divorced but remarried.)
The challenges for single parents raising a child with a bleeding disorder touch all aspects of life, from emotional and psychological stress to financial instability. On top of feeling overwhelmed, Alicia also had to face the drastic financial shift that came with becoming a single mom. Because of her son's hemophilia, Alicia is afraid to put him in day care. She went from 70 hours a week at the salon to 10 so she could be the primary caregiver for Landon. Her parents babysit when she is working. Alicia supplements her meager income with child support. "I am fortunate that I get to watch my child grow up every day," she says. "But financially, I would never have chosen this."
Most single parents have approximately half the income of two-parent households. This makes them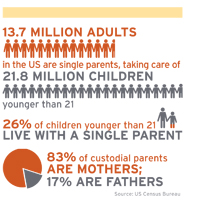 more than four times as likely to live in poverty, the Journal of Pediatric Psychology study reported. Stress and fatigue from raising a child with a bleeding disorder are even more pronounced in single parents who also have to work full time, says Diane S. Standish, LSW, a social worker at the Hemophilia Center of Western Pennsylvania in Pittsburgh. This could lead to clinical problems for the child. "If parents are exhausted from having to run the household, work and raise the kids, they may make decisions that are not the best, like delaying treatment," she says.
To help parents find relief, Standish asks them to identify existing resources, such as a trusted family member or neighbor who can care for the child, watch other children during trips to the emergency room and provide respite care. She also recommends that parents get involved in support groups at their HTC or local National Hemophilia Foundation (NHF) chapter.
Living close to her parents is an immense source of support for Alicia. Her mother watches Landon once a week while she works. Her dad, a paramedic, is there for her during emergencies. However, Alicia says the primary reason she has been able to manage her son's condition is that she has educated herself and sought support at NHF's Western Pennsylvania Chapter in Cranberry Township. Last year, Alicia helped with activities, like the fundraising walk in September and the Oktoberfest, where Landon picked pumpkins and played with other children. "When I got involved with the chapter, the first thing they did was give me a hug and offer me their phone numbers," Alicia says. "That has been my biggest help."
Dividing Household Duties
Gina Rescinio, 50, of Oceanport, New Jersey, became a single parent in 2002 when she and her husband ended 10 years of marriage. Her son, Nicholas, 14, has mild hemophilia A, and her two daughters, ages 16 and 11, are unaffected. The emotional turmoil of the divorce, along with caring for three children and serving as her son's primary caretaker, made Gina doubt her ability to tackle it all. But she went back to work full time as a high school special education and history teacher to support her family.
Gina manages her family by being organized and dividing the duties. The day begins at 5:30 a.m., as she gets herself ready for work and makes sure her kids are getting ready for school. After work, she runs errands and takes the kids to and from activities. By the time the family eats dinner, it's nearly 8 p.m. "There's no time for anything else," Gina says.
Gina treats her children like responsible members of the household, all of whom pitch in to keep it running smoothly. Nicholas and his sisters do the dishes and the laundry; they make their own lunches the night before school. Nicholas mows the lawn and either walks home from school or takes the bus. The more he steps up, the more manageable Gina's to-do list becomes. "I encouraged Nick to take responsibility for himself, and he was able to begin self-infusing this year," says Gina. "This was very positive for his self-esteem."
Working Through Differences
Like other divorced couples, the Rescinios have had to work through their differences in parenting their children, especially regarding Nick's condition. Gina prefers calling the HTC right away about treatment options when Nick is injured. But when Nick goes to his father's house, his dad usually waits to see if an injury develops into a bleed, Gina says.
Parents need to respect each other's differences when managing their child's bleeding disorder. There may be a temptation to feel one parent does not know enough or do things the "right way," says Aime Grimsley, RN, a nurse at the University of North Carolina Hemophilia and Thrombosis Center in Chapel Hill. "But it's helpful for the child to see that parents have different perspectives. Everyone has to have a plan to know the signs and treat bleeds, but there's more than one right way."
Despite their conflict, Rescinio and her ex-husband learned to communicate openly about their son. They keep in touch regularly by phone about Nick's condition and any incidents that happen between visits with Nick's dad. Both parents have the HTC's phone numbers on hand. If Nick needs immediate treatment, his parents have agreed to call each other to meet in the local hospital's emergency room.
Healing the Hurt
Fluid communication can be difficult when divorced parents are struggling with anger or guilt. That's where mediation comes in, says Christopher M. Borrillo, MD, assistant professor of child and adolescent psychiatry at Tulane University in New Orleans. "Mediation can help both parents feel as if their needs can be addressed and supported," he says. It can help parents share decision-making responsibilities and talk about divorce with the children at an age-appropriate level. "The most important thing for parents to remember is that children demonstrate resilience over time."
Resilience and flexibility are traits Jeff Presti has come to heavily rely on since his divorce in June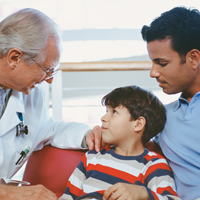 2010. Jeff, 47, Clifton­, New Jersey, has had to reinvent his relationship with his 11-year-old son, Rhett, who was diagnosed with severe hemophilia A at birth. Since the divorce, Jeff, who is a service consultant for a Mercedes-Benz car dealership, has had to evolve from the father trying to fix everything to the father who can also be a friend.
The custody agreement allows Jeff to spend every other weekend with his son, which restricts his involvement in managing Rhett's hemophilia. Jeff, who now lives 50 miles away from Rhett, does not infuse his son, nor does he attend physician visits. If Rhett has a bleed, Jeff sends a text message to his ex-wife, a certified phlebotomist. She instructs him in the next steps or asks him to bring Rhett home for treatment.
Jeff's goal is to make his son's weekend visits a respite from hemophilia, if possible. "My time is 100% doing whatever he desires, whether that's watching TV, hitting the flea market or going to the movies," Jeff says. "There will be weekends where we do nothing, because on Wednesday he had to get treatment." He encourages Rhett to communicate openly about his pain and to be independent.
Jeff's strongest support has come from a source he didn't expect: his son Ryan, 19. Ryan, who doesn't have hemophilia, lives with his dad. He saw how miserably Jeff was coping with living on the margins of his sons' lives. "I had the 'woe is me' attitude at first. I went through some terrible times," Jeff says. Ryan told his father the hard truth: "Dad, you're a mess. Stop worrying about us."
"He was right," Jeff recalls. "That moment fixed everything. I stopped being a mess and started being a better man, a better father." Ryan offers that same support to his young brother. "I've never seen my older son be upset with my younger son, ever," Jeff says. "He has always protected his brother."
Support for single parents can come from a variety of sources—neighbors, nurses, friends, relatives, even their own children. That support not only lightens the load of responsibilities, but also helps single parents tap into their inner strength and encourage their children to live healthy, productive lives.